Welcome to The World of Nsync!! This is a site dedicated to Nsync. There are lots of pictures links and other fun stuff. So if you have any Questions or comments about this site just email me at marta17marta@hotmail.com. Before you leave please sign my guestbook and or leave a message on my message board. Also if you could vote for my site at the bottom, and for Nsync.

If you have any suggestions on how this could be improved just put it on the Buliten Board

NSYNC on the CHARTS:
BILLBOARD:
ALBUM:
"No Strings Attached" - #5 on Billboard 200 Albums
"No Strings Attached" - #4 on Billboard INTERNET SALES
"NSYNC" - #4 on Billboard Top PoP CaTalog Albums
SINGLE:
"It's Gonna Be Me" - #4 on Billboard Hot 100 Singles


Updates
08/27/00 = Appearances / Nsync News / Nsync Tour / Justin Pictures
06/22/00 = Videos updated
06/15/00 = New Chris pic page / New Lance pic Page / New Joey pic Page / Nsync News / 2000 Tour / Appearances
04/12/00= Updated the Audio/Appearances/and Nsync News
04/11/00= Three New Group pics pages/New Lance pic page/New Justin pic page/Updated Baby pictures
03/07/00= Three new pages of Justin Pictures & A new page of group Pictures.
This Site has been up since June 28/99

Email me!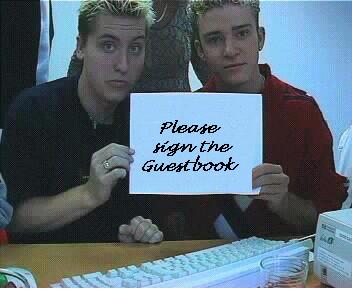 Sign My Guestbook
View My Guestbook

Tell a friend about his site all you have to do is click below!!!!

To know when this site will be updated join my Mailing List:

Biography
Pictures
Multimedia
Other
Awards
Vote for Nsync
Go to Nsync Vs. Backstreet Boys
Vote for me
Links

I, [Marta], belong to the Crunk4Justin Webring.